Pattaya Islands
Book Direct and Save!
Stay More Pay Less Large discounts for longer stays.
Best Rate Guarantee
Free Airport Transfer (inquiry about conditions) We will provide free transfer from Bangkok airport for any 7+ days villas reservations.
Free One Day Trip to Coral Island (inquiry about conditions) Enjoy real beach holiday on nearby Koh Larn Island.
Around Pattaya are small offshore islands which have beautiful beaches, clear water, and coral. You can reach the islands either by taking a tour which includes snorkelling, or hire a boat from the promenade or pier at South Pattaya. Costs vary according to your bargaining skills, destination and the type of boat. If you feeling like splashing out, charter a boat. A beautifully restored Dutch colonial teak boat can be chartered for half day cruise including lunch.
Koh Larn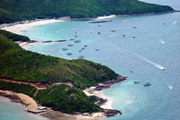 Ko Larn or Coral Island, 45 minutes offshore by tourist boat or 15 minutes by speed boat, is the largest of Pattaya's offshore islands.

Major Ko Larn attractions include sightseeing tours along coral reefs viewed from a glass-bottomed boat, snorkeling, scuba diving, windsurfing, skiing, and parasailing. There are a lot of seafood restaurants on the island's main beaches. Deep sea fishing can be arranged to Ko Larn's neighboring islands such as Ko Phai and Ko Sak.
Koh Samet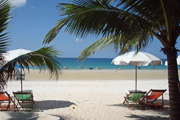 Beautiful island is about 50 minutes driving from Pattaya. Koh Samet is part of Khao Laem Ya - Ko Samet National Park, which encompasses Khao Laem Ya on the mainland, as well as various islands in the region. Despite its national park status all of Ko Samet's beaches have been developed -- the only way you'd know you're on a national park is via the entry fee charged to all visitors. Ko Samet retains enough beauty and appeal to win over a regular stream of return visitors. As Ko Samet misses most of the heavy monsoon that plagues other islands, the weather is guaranteed to be pleasant at almost any time of year. And though the beaches have been overdeveloped, they still manage to be beautiful, with sparkling white sand curving between coconut palms and clear cerulean water. If you can get past the fact that this should be a national park, you'll find Ko Samet to be a traveller's paradise of magnificent beaches, delicious seafood and dozens of choices for nightlife. Where you choose to stay on Ko Samet depends largely on what your ideal scene is. The east coast is the most popular, as it's dotted with sandy beaches, coves and most of the island's restaurants, bars and accommodation. The tiny west coast beach is more secluded and upscale, with only three top-end resorts to choose from. Though the nightlife on the west coast is fairly limited, the resort bars see a fairly good crowd coming to watch the sunset over the water. The north is Ko Samet's quietest coast, with just a few small guesthouses clinging to the rocky shoreline. A few upscale resorts dot the far end of this coast on the only strip of pleasing beach. While it's important to decide which coast is more to your taste when choosing where to stay, the island is only 6km long and 3km wide, so it isn't difficult to visit another area on a daytrip.
Koh Phai
Beyond Ko Lan another 40 minutes sail is an island currently under the care of the Royal Navy. Visitors are not allowed to stay overnight here, but it has fine deserted beaches that are open during the day.
Koh Sak
Only 600 metres from Koh Larn. Koh Sakis a tiny island shaped like a horseshoe. Its two beaches, are a usual stop for tourists to swim. There's also a coral reef in front of the beach.